Michigan Masters Wins the National Championship in the Regional Club Division
The 2021 USMS Fall Long Course National Championships took place from October 7 to October 10, 2021 at the Spire Institute in Geneva, Ohio. 706 swimmers entered the meet from 161 Clubs. 32 USMS and 25 FINA World Individual Event Records were set during the course of the meet. The great news is the Michigan Masters Club won the Regional Club Division for the first time since 2015 when the meet was at Spire. This was the 5th Championship that the Club has won since 2009. We had 19 Men and 9 Women swimming for a total of 28 swimmers. Our Women scored 163 points and our Men scored 346 points and it was very balanced with 18 points per swimmer average for both. 29 Individual and 3 Relay Michigan LMSC State Records were set during the course of the meet.

Pictured: From left to right 1st row – Gaard Arneson, Patrick Sturdy, Lisa Hypnar, Jim Stein, Joel Lockwood, Chuck Olson, and Charles Roddis.
2nd row – Corrin Convis Buck, Kurt Olzmann, Kathy Haney, Mitzi Amelon, Krystal Karas, Bonnie Karas-Foltz, Jeff Bailey, Kate Burns Jager, Sallie Bartkowiak, Matt Wuchte, and Coady Torio.
3rd row – Kyle Larson, Jim Pogue, David Mange, Larry Day, Randy Parker, Chad Steed, Frank Thompson, and Aaron Helander. Missing in the picture are Denise Brown and Matt West.
Missing in the picture is Denise Brown and Matt West.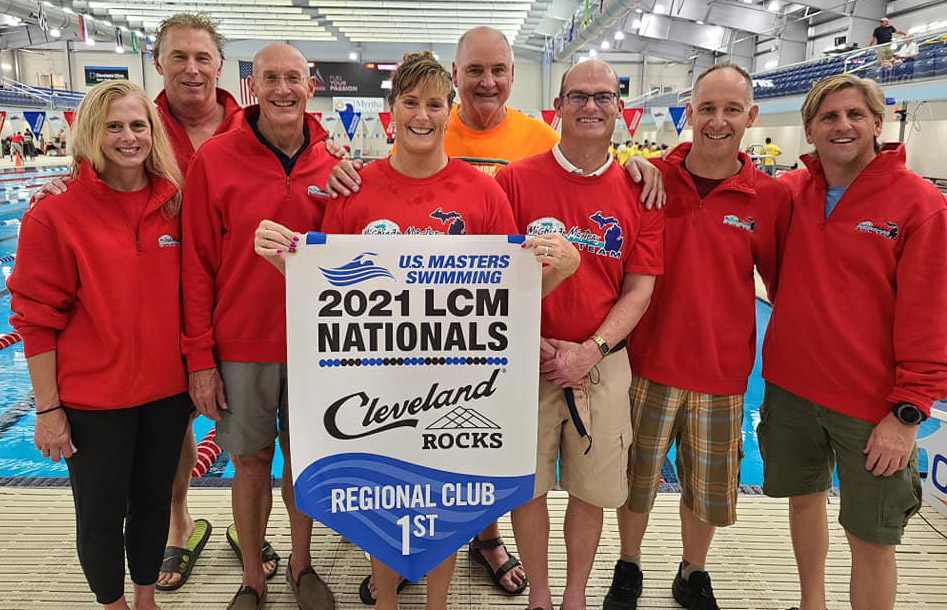 Larry Day continues to swim amazingly well and set 4 FINA World/USMS National Records winning all 6 of his events. Other National Champions from Michigan Masters included Joel Lockwood with 5, Corrin Buck with 3, Krystal Karas with 3, and Kurt Olzmann and Chuck Olson with 1 each. Second place finishes were Bonnie Karas-Foltz with three, Kurt Olzmann, and Chuck Olson with two places, and Krystal Karas, Corrin Buck, Kyle Larson, Randy Parker, and Matt West with one second place finish. Third place finishes were Denise Brown, Aaron Heelander, and Charles Roddis with 3, Krystal Karas and Chuck Olson with 2, and Corrin Buck, Bonnie Karas-Foltz, Sallie Bartkowiak, Kathy Haney, Joel Lockwood, Kurt Olzmann, Randy Parker with one each.
29 Michigan LMSC State Records were set as follows: Larry Day 5, Chuck Olson 5, Krystal Karas 4, Joel Lockwood 3, Kurt Olzmann 3, Bonnie Karas-Foltz 2, Charles Roddis 2, Randy Parker 2, and Denise Brown, Lisa Hypnar, and Jim Pogue with one each. 18 Relays scored in the meet with 9 making the top 3 in the relay event. All 28 Michigan Masters swimmers were members of relays that scored points for the Club.
It's been 2 years since the last USMS Long Course Nationals and it was great seeing swimmers having fun and swimming again. The meet was smaller with 706 swimmers and 65% were Men and 35% were Women. Except for the distance day on Thursday which ended about 5:45 PM the other days were over by 4:30 with the last day ending about 3:15 PM. It's been a long time since National Meets ended this early. The meet was very well run and Spire is a great facility with some of the largest deck space for a facility of that size.
Results, Records, and Places are included in the Exhibits. Congratulations to all 28 swimmers that swam in the meet.
Michigan LMSC Results – CLICK HERE
Overall Meet Results – CLICK HERE
---