2020 Michigan Masters LMSC Awards Announced
2020 Michigan Masters LMSC Awards Announced
With the cancellation of the 2020 Michigan LMSC State Championship, the usual on-deck awards presentation to this year's recipients was not possible. However, we would still like to present this year's recipients to the LMSC in a virtual format online. So, here are this year's winners:
2020 Michigan Masters Lifetime Achievement Award – Fred Nelis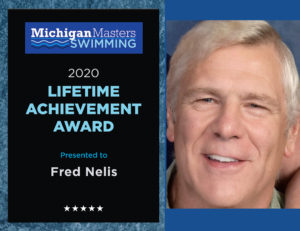 The recipient of the Lifetime Achievement Award is an individual who has demonstrated continuous swimming accomplishments along with outstanding voluntary contributions and a lifetime of dedication and devotion to the objectives of Masters Swimming in Michigan. This year's Lifetime Award winner is Fred Nelis.
As a swimmer, coach and volunteer, Fred Nelis has had a long history of supporting Masters Swimming and the Michigan LMSC. As the founder of the Dutch Masters swim team, Fred has been an integral part of Michigan Masters in Western Michigan for many years. His work with the Dutch Masters Team earned Fred the 2008 U.S. Masters Swimming Kerry O'Brien Coaches Award.
Since joining USMS, Fred has held many posts at the local and national level, including LMSC Treasurer, Vice Chair, Chair and a number of years on the USMS Finance Committee.
Fred also organized and hosted four Michigan LMSC State Championships at the Holland Aquatic Center.
In response to his work as a volunteer and meet host, Fred was awarded the 2010 U.S. Masters Swimming Dorothy Donnelly Service Award.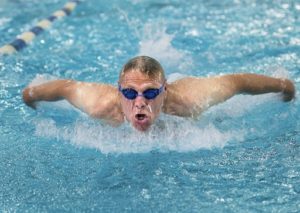 One of the most lasting influences Fred has had on the Michigan LMSC, was his work as one of the co-creators of the Michigan Masters Scholarship Fund. This annual $1,000 scholarship provides financial assistance to eligible Michigan Masters swimmers and family members who are attending college as undergraduate or graduate students. Since its inception, the scholarship fund has awarded over $10,000 in grants over the past decade.
In addition to all this volunteer work on behalf of the Michigan LMSC, one of Fred's most monumental achievements was returning to the pool after a heart transplant in 2014. Returning to competition as a participant in the World Transplant Games, Fred has accumulated numerous medals, including multiple gold medals at the 2016 games in Cleveland.
Fred's current project is his work to chronicle his experiences as a competitive swimmer and transplant recipient in a new book that aims to give hope and inspiration to others facing a similar life challenge. With the book nearing completion, the next step will be working with publisher's on the final printed version.
A few excerpts from the book have been shared and help sum Fred's outlook on life. First, "Only the father knows the proper balance between grief and gratitude." plus, a perspective on life after experiencing a major setback, "Reach-stop trying to live, start living to try."
For a swimming life well lived, we are pleased to present the 2020 Lifetime Achievement Award to Fred Nelis.
2020 Michigan Masters Lawrence Award – Tony Anderson    

The recipient of the Lawrence Award is a Michigan Masters Swimmer who has achieved outstanding performances in a National competition over the last year, as well as over their long-term swimming career. This year's Lawrence Award winner is Tony Anderson.
Tony's exceptional performance took place at the 2019 Summer USMS National Championships in Mission Viejo, California. By the time the meet completed, Tony had won all 4 events he entered and set Michigan LMSC Records in the 100 Free, 200 Free, and 1500 Free. He was also the Michigan Masters Men's High Point winner with 44 points.
If placing first in all his events wasn't enough, the high point was when Tony raced against his son in the 1500 meter freestyle. In order to enjoy every minute of the race, Tony and his son Kyle entered with almost the same time (17:57.97 for Tony and 17:57.90 for Kyle) so they would swim near each other.
They ended up in adjacent lanes in their heat, with Kyle taking an early lead before Tony passed him for good at about the halfway mark. In the end, Tony, 55, won his age group with an 18:02.60 and beat his son Kyle, 27, who was disqualified. Winning his age group was not the best part, though, as Tony put it  after the race, "Just being able to spend that time with him, all that time we can talk—going to the pool, at the pool, leaving the pool, in the locker room, whatever—that's all like gold for me."
For an amazing 2019 Summer Nationals, we are glad to award the 2020 Lawrence Award to Tony Anderson.
2020 Michigan Masters Chetrick Award – Samantha Snyder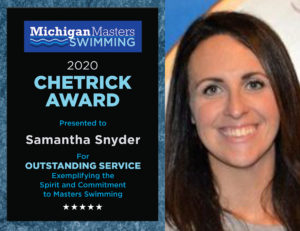 The recipient of the Chetrick Award is an individual who has exhibited outstanding service and commitment to the spirit of Michigan Masters Swimming. This year's Chetrick Award winner is Samantha Snyder.
Samantha is currently the Michigan LMSC Safety Director and has been a swim coach and instructor for over 20 years. She has been coaching Masters Swimming at Lifetime Fitness since 2012 and is currently the Masters Swim Coach at Lifetime Fitness in Rochester Hills.
In addition to her work as the Michigan LMSC Safety Director, Samantha has played a key role in helping to organize a number of key events in the past few years.
Recent events she has taken the lead on include the first Michigan LMSC Smarty Pants Vitamin Swim Challenge, which helped to raise funds for the USMS Swimming Saves Lives Foundation.
As an Assistant Coach, Samantha helped Olympians Janet Evans and Elizabeth Beisel during our two recent Masters Swim Clinics, allowing each participant to benefit as much as possible from the experience and advice of our guest Coach/instructors.
Last year, she worked on the inaugural Swim Across America Motor City Mile as the Lifeguard Coordinator helping to manage a crew of open water lifeguards on the Detroit River.
Her assistance and contributions have been felt throughout the swimming community.
For these and other volunteer contributions, we are happy to award the 2020 Chetrick Award to Samantha Snyder.