EMU – Warmest Meet – LCM
Eastern Michigan University – Jones Natatorium – Ypsilanti, MI
Sunday, July 16, 2023
This meet will be swum as Long Course Meters (50 meters)
Sanction#193-S009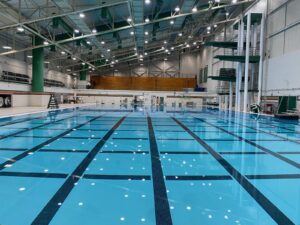 Eligibility: Only swimmers who have a current 2023 USMS membership will be allowed to compete.
Location: Jones Natatorium at the Eastern Michigan University, which is located in the Athletic Campus. 100 Olds/Robb,, Ypsilanti, MI 48197
Parking: Eastern Michigan campus parking is $2.00/hour including Sundays. Detailed parking options are at the bottom of this page.
Registration: Online or mail-in or entries are $40; mail-in entries need to be postmarked by July 12th. Register on-line at: www.michiganmasters.com. Deck entries on the morning of the meet will be $45. All relays will be deck entered. Swimmers may swim a maximum of 6 individual events and 3 relays. As with a ticket to any sports or entertainment events there are no refunds or credits if you are unable to attend.
1500 Free: Only two heats of the 1500 Free will be swum; only the first 20 entrants for this event will be able to swim it. No deck entries will be accepted for the 1500 Free.
Warm Up: Begins at 8AM, the meet will begin at 8:45AM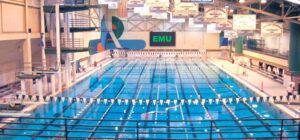 Enter the pool feet first, no diving is allowed during warm-up, except in designated "start/sprint" lanes. The length of the competition course without a bulkhead is in compliance and on file with USMS in accordance with articles 105.1.7 and 107.2.1. The primary timing system will be automated with sound device at the start and swimmer touching the pad at the finish with the time recorded on a scoreboard. Official times from this automated timing system will be submitted for USMS Records and USMS Top Ten times for all courses. For Short/Long Course Meters the time will be submitted to FINA for Masters FINA Top Ten and Masters FINA World Records.
Meet Director: Frank "Skip" Thompson   [email protected]