2023 MI Masters Swimming Regatta at the Detroit Yacht Club – SCM Swim Meet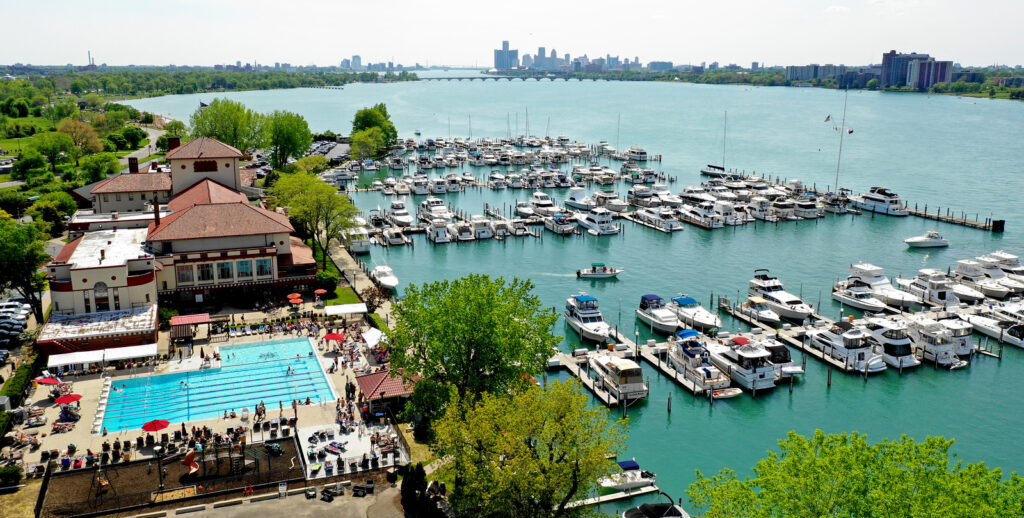 Michigan Masters Swimming Regatta at the Detroit Yacht Club – SCM Swim Meet
Sunday, June 25, 2023
USMS Sanction #193-S008
Registration Closed
No Deck Entries, or Mail-In Entries will be allowed.
Warm-up: 6:00pm – Events Begin: 6:30pm
Location: Detroit Yacht Club: One Riverbank Rd., Belle Isle, Detroit, MI 48207, (313) 824-1200. Michigan State Park Recreational Pass, or Daily Pass is required to enter Belle Isle State Park. The Detroit Yacht Club, founded in 1868, is the largest and one of the oldest most prestigious private Clubs in North America. The current DYC clubhouse, located on a private island along the banks of the Belle Isle Park in Detroit, is of Mediterranean design and was completed by George Mason in 1922. Mr. Mason also designed the Gem Theater, Masonic Temple and the Grand Hotel on Mackinac Island.
Note: Even though a Michigan State Park Recreational Pass or Daily Pass is required to enter Belle Isle, guests of the DYC for this event should be allowed passage by stating they are attending this DYC function.
Facility: This competition will be held in an 8-lane, short course meters (SCM) outdoor pool with a warm up & cool down area.
Entries/Registration:
Swimmers may enter 5 events and 1 Relay. Relay cards are available at Check-In or at the Meet Computer Desk. All relays will be deck entered and relay cards submitted to the Meet Computer Desk by times listed on the Entry Form on the next page. Relay entry deadlines will be announced. FINA rules apply to SCM Meets. Your age on 12/31/2023 determines your age group. By registering for this event you have bought a 'ticket'. As with a ticket to any sports or entertainment events there are no refunds or credits of you are unable to attend.
Online Registration. $35. Register Online at: www.michiganmasters.com. Online registration closes Friday 6/23 at Noon. No Deck Entries, or Mail-In Entries will be allowed.
Rules: US Masters Swimming rules (http://www.usms.org/rules/) The length of the competition course without a bulkhead is in compliance and on file with USMS in accordance with articles 105.1.7 and 106.2.1. This meet will use manual timing (not an electronic timing system). – Therefore times from this competition will not be eligible for world record, USMS record, or Top 10 consideration.
Hospitality: Light snacks will be served during the meet which are included in your meet fee.
The DYC – Full-Service Pool Bar and Grill will also be available throughout the entire meet. (Credit card payment only.)
Contacts: • Meet Directors – Patrick Weiss, [email protected]. Jim Izzi, [email protected]
All meet proceeds will benefit our local meet volunteers and the Michigan Masters LMSC.
Directions: Please allow 15-30 minutes travel time on Belle Isle, depending on traffic, and the 25 mile/hour speed limit on the island. Enter the island on the MacArthur Bridge. Entering the island, turn RIGHT and and then LEFT on Central Ave. follow Central Ave until it ends at Lakeside Drive. Turn LEFT. The DYC entrance will be on your right, over a small bridge. Stop at the gatehouse and let them know you are there for the Masters swim meet.