2023 Annual State Meet Awards:
The 2023 annual Michigan LMSC state awards were awarded at the Michigan Championship State Meet at the Holland Aquatic Center, April 14-16, 2023.
The 3 Award Winners Were:
Lifetime Achievement Award: Denise Brown
Chetrick Award: Corrin Buck
Lawrence Award: Joel Lockwood
Lifetime Achievement Award: Denise Brown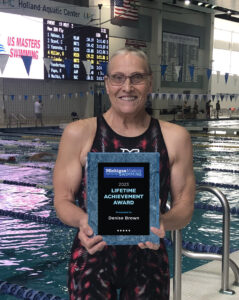 For the past 18 years, one Michigan Masters swimmer has excelled both as a volunteer and in competitions at the local, national and international level.
As a volunteer, she has over a decade of service in a number of volunteer positions on the Michigan LMSC Board. These volunteer positions has helped on both the local level and with national USMS committees.
The many positions she has held over the years has earned her numerous State and National service awards.
As a competitor and participant at local meets, a US Masters Swimming National Championships, FINA World's or any other competition around the globe, she has out-shined most other swimmers in her age group.
In the pool alone, she has over 200 USMS Top 10 times and has over completed over 400 races. She also has 23 All-American listings to her credit.
She has travelled the globe as a member of Michgan Masters Swimming excelling in competitions of all types.
In the past few years, she managed to make it to the 18TH FINA WORLD MASTERS CHAMPIONSHIPS in GWANGJU, South Korea, where she placed third in her age group for the 10K open water event.
Her open water winning streak is unmatched in our LMSC. In the past 18 years, she has won over 40 open water national championships.
One of her most recent accomplishment was in Lake George, New York, where she placed first in her age group to become the 2022 USMS Open Water 10k Champion.
So, for all her success in competition and her work for the Michigan LMSC over the years, we would like to award the 2023 Lifetime Achievement Award to Denise Brown.
This award was initiated in 2001.The recipient of this award is an individual who has demonstrated continuous swimming accomplishments along with outstanding voluntary contributions and a lifetime of dedication and devotion to the objectives of Masters Swimming in Michigan. To be eligible for this award, and individual must swim for Michigan Masters for at least 10 years. Current officers of the Michigan LMSC are eligible for this award while in office.
Chetrick Award: Corrin Buck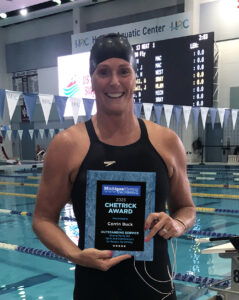 This year's winner began swimming competitively with US Masters in 1988. During that time she was the Assistant Coach for the Michigan State University Women's swim team. She eventually stepped in to the Head Coaching position for the Women's swim team at MSU and held that position for 2 years.
In 1990 State Meet she was the Co-Director of the Michigan Masters State Championship meet held at Michigan State University.
She started the first masters meet in the Battle Creek area at Harper Creek High School on February 6, 2005. Since then, she has been Meet Director for 16 straight years at the Harper Creek meet. She was elected to the Michigan LMSC BOD in 2007 as Secretary and held that position until 2010.
She was then elected to the position of LMSC Sanctions Chair in 2022 and is currently serving a 2 year term.
In 2021, she was appointed National Coach for the Michigan LMSC for National Meets.
Additionally, she has been Swimmer of the Year and is one of 9 swimmers that contributed to all 5 National & International Championships that Michigan Masters has been won since 2009.
For all these accomplishments, and many more, the 2023 Chetrick Award goes to Corrin Buck.
This annual award was initiated in 1977 and is named after Dr. Myron Chetrick. The recipient of this award is an individual who has exhibited outstanding service and commitment to the spirit of Michigan Masters Swimming on either the State or National level. All Michigan Masters swimmers and volunteers, including current Officers of the Michigan LMSC, will be eligible for this award.
Lawrence Award: Joel Lockwood
This year's winner joined USMS in 2012 at the age of 78. Since joining, he has swam for 4 different teams/workout groups  FAST, STRAY CATS, MAC, and North Coast Masters out of Traverse City.
Over the year's he has had numerous USMS Top Ten times in all three courses (SCY, SCM, LCM).
He has held the top spot in the 200 Breaststroke 85-89 age-group FINA Masters Swimming World Rankings.
In 2020, by attending just two meets, he was able to achieve 11 USMS Top Tens times.
In 2021, he had 8 swims in the USMS Top 10.
Then in 2022, he swam in two Michigan meets and achieved 7 swims in the USMS Top Ten and had two #1 swims in 500 Free and 50 Breast.
He now has a total of 108 USMS Top Ten swims in the 11 years he has been swimming since 2012.
For all of these past achievements and to future endevours, the 2023 Lawrence Award goes to Joel Lockwood.
This award was initiated in 1978 and is named after Bob Lawrence. The recipient of this award is a Michigan Masters Swimmer who has achieved outstanding performances in National competition over the last year as well as over their long-term swimming career. Examples of National competition include the following: USMS All-American selections, National and World Number One Swims in yearly Top-Ten rankings, USMS National and FINA World Records, USMS National Championship Meet and FINA World Championship Meet Titles, FINA World and USMS National Top-Ten Rankings. Additional examples for consideration include: YMCA National Records or YMCA Championship Meet Titles and Michigan Masters State Records or State Championship Meet Titles.