2016 USMS Spring National Championships
Michigan Masters takes 7th Place in the Regional Club Division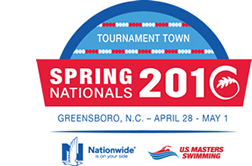 The 2016 USMS Spring National Championships took place from April 28 to May 1, 2016 at the Greensboro Aquatic Center in Greensboro, North Carolina. 1790 swimmers entered the meet from 238 Clubs. Michigan Masters placed 7th in the Regional Club division with 431.5 points with 28 swimmers who attended. The Men's team placed 4th with 281.5 points with 20 swimmers attending and the Women's team placed 7th with 108 points with 8 swimmers attending.
Larry Day won all 6 of his individual events in the 65-69 age group and became the 5th swimmer in Michigan Masters history to achieve this milestone. He set 3 USMS Records during the course of the meet and for the year has set 9 USMS Records in Individual Events and 1 USMS in a Relay. Kevin Doak won 5 out of 6 events in the 35-39 age group for another outstanding meet to go along with the 2012 Long Course Nationals where he won all 6 of his individual events. These 2 swimmers were the only ones that achieved 1st place in their individual events.
Second place finishes were secured by Sally Guthrie in the 100 and 200 Fly, Randy Parker in the 100 and 200 Breast, Denise Brown in the 400 IM, and Fares Ksebati in the 200 Breast. 24 LMSC State Records were set by 4 swimmers and the 65+ Mixed Relays. Larry Day set 6, Denise Brown, Sally Guthrie, and Kevin Doak each set 4. Randy Parker set 3, and all three 65+ Mixed Relays set LMSC State Records.
Larry Day was the Michigan Masters Men's High Point winner with 63 points and Sally Guthrie was the Michigan Masters Women's High Point winner with 34 Points. Results, Records, and Placings are included in the Exhibits.
Michigan Masters Swimmers in the picture from left to right starting with the bottom row. Jeff Bailey, Robert Rossbach, Alex Thane, Meagan Mayer, Sally Guthrie, Laura Nathan, and Fares Ksebati. Middle row: Anna Nathan, John Flynn, Laurie Kaguni, Denise Brown, Tamara Steil hidden kind of, Bill Palmer, Kelly Revenaugh, and Randy Parker. Back row: Herman Conner, Ayinde Mitchell, Trevor Asti, Kurt Christensen, Kevin Doak, Patrick Weiss, Skip Thompson, Larry Day, Dennis Toth, and Eric St. Germain. Missing in the picture who swam in the meet are: David Forgione, Paul Graham, and Erich Mehnert.
MI Masters Swimmers Results with Splits and Scores