2016 State Championship Meet
Milford (MAC) Wins 4th Large Team State Championship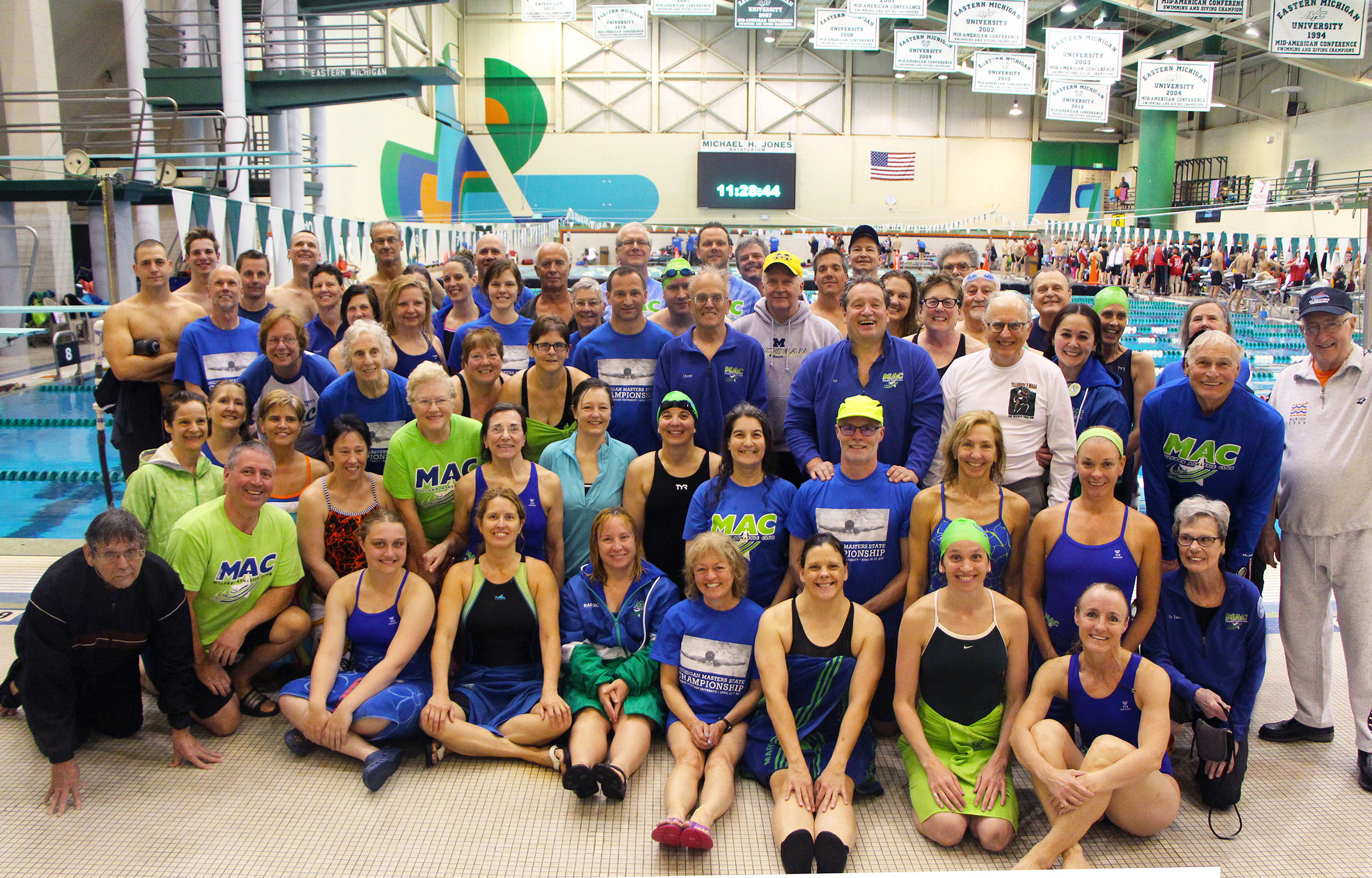 The 44th Annual Michigan Masters State Championships took place at the Michael Jones Natatorium on the campus of Eastern Michigan University. Three-hundred and fifty-one swimmers from 20 teams contested the championship from Friday, April 15th until the meet's conclusion on Sunday, April 17th, 2016. This was the 11th State Championship meet held at EMU in the 44 year history of the Championship.
The Milford Athletic Club (MAC) won their fourth straight Large Team Combined championship in their ten-year history. MAC won the Large Team Women's and Men's Championships as well. They are the second team in Michigan Masters history to win four consecutive Combined State Championships.
The Battle Creek (BCY) won the Small Team Combined and the Women's Championships. The FAST Swim and Triathlon Club won the Women's Small Team Championship. New State Meet team such as Kalamazoo ZOOM, My Swim Pro, and Detroit Swims made their State Meet debut and the Michigan LMSC welcomes these new teams and from the performances of the swimmers, they will be a force in the future.
Forty-nine State LMSC Records (17 women, 27 men, 5 relays) were set during the course of the meet. Additionally, 77 State Championship Meet Records (32 women, 37 men, 8 relays) were set during the course of the meet. Larry Day set 4 USMS National Records in the 65-69 age group in the 500 Free, 200 Fly, 200 IM, and 400IM. Larry has set 6 USMS National Records thus far in 2016. Results, Records, and High Point Awards for both team and individual swimmers are included in the Results Exhibits on the Michigan Masters website.
RESULTS from the 2016 State Championship Meet:
State Meet Championship Results
Individual Point Totals
Team Scores
Record Breakers
Meet Team Summary
Team Summary – Detailed Journal
Team Summary – Summary Totals
Records and Awards Summary
Championship Records
State Records
– SwimPhone – Live Swim Meet Results