Michigan Masters takes 8th Place in the Regional Club Division
PHOTO:  Pictured: (1st row) – Ali Blondell, Taylor Oberson, Clare Hine (2nd row) – Tamara Steil, Jordan Craig, Andrew McFee, Mary Chris Kay, Gaard Arneson, Sue Weir (3rd row) – Dan Miller, Skip Thompson (as an Official) Chuck Olson, Tom Melgar, Corrin Buck, Fares Ksebati. Not Pictured:  Christian Vanderkaay, Glad Bryce and Unattached Andy Fillmore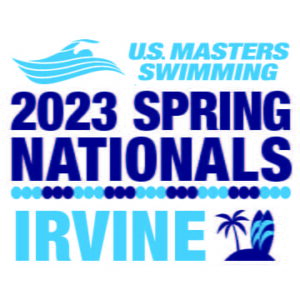 The 2023 spring nationals took place in Irvine California April 27-May 1. 16 Michigan Masters traveled to California for a  record breaking 2483 swimmers which broke the attendance record of 2378 swimmers that swam in Indianapolis in 2018.
In the Regional Team division the women placed 8th with 9 women and men placed 9th with 7 men and combined Michigan Masters placed 8th. 
Along with great numbers, came great swims with ___ national Records going down. And much excitement centered around some Olympians who swam – Markus Rogan, Anthony Ervin, Kurt Grote, Nathan Adrian and Jenny Thompson (who set a new USMS National Record in the 100 free). 
Representing Michigan our spring 2023 National Champions were- Ali Blondell in the 50 and 100 fly, Corrin Buck in the 200 breast, 100 and 200 IM, Jordan Craig in the 200 free, 50 breast and 1000 free, and Glad Bryce in the 100 IM and 100 back. 
2nd places finishes came from Gaard Arneson in the 1650, Ali Blondell in the 200 and 100 IM, Corrin Buck in the 50 and 100 breast,  Glad Bryce 100 free and 50 back, Clare Hine 200 breast, Chuck Olson 100 and 200 free, Christian Vanderkaay 200 breast and 400 IM. 
3rd place finishes came from Gaard Arneson 200 back and 1000 free, Glad Bryce 50 free, Jordan Craig 500 free, Clare Hine 50 and 100 breast, Chuck Olson 50 free and 1000 free. In addition, placing top 10 individually were Gaard Arneson, Clare Hine,  Mary-Chris Kay, Fares Ksebati, Andrew McFee, Daniel Miller and Tamara Steil.  Also swimming from our LMSC was Andy Fillmore swimming unattached. Andy finished 3rd in the 400 IM and top 10 in the 200 Breast and 50 breast. 
13 individual LMSC State Records and 1 relay LMSC State Records were broken by Michigan Masters swimmers in the meet. Ali Blondell broke 4 records alone, Gaard Arneson broke 3 alone, Sue Weir broke the 50 fly record and the 400 Mixed Free Relay of Fares Ksebati, Andrew McFee, Alicia Blondell and Jordan Craig broke the state record by 16 seconds.
Chuck Olson was the Michigan Masters Men's High Point winner with 41 points followed by Gaard Arneson 37 points. Corrin Buck was the Michigan Masters Women's High Point winner with 51 Points followed by Ali Blondell with 49. 15 swimmers out of 16 swimmers earned a medal in an individual event or a relay making this a total team effort and 14 out of 16 swimmers participated in our 8 relays.
Overall Results – 2023 Spring Nationals – CLICK HERE
Michigan LMSC Results – CLICK HERE
Congratulations to all 17 swimmers that swam in the meet.