2016 USMS Summer Long Course National Championships
Michigan Masters takes 8th Place in the Regional Club Division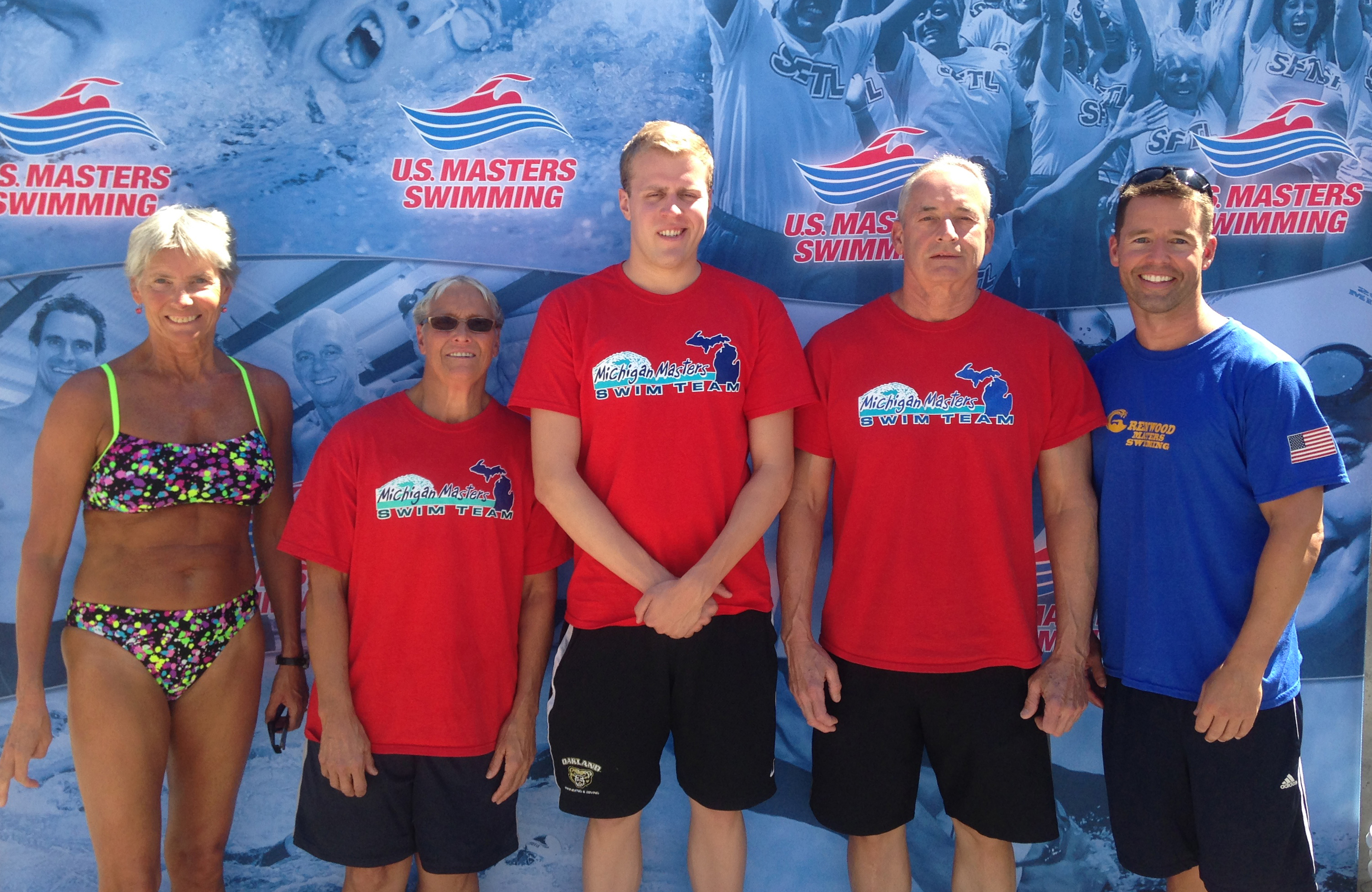 Pictured – From left to right: Tamara Steil, Denise Brown, Colby Haan, Dennis Toth, and Tom Phillips.
The 2016 USMS Summer Long Course National Championships took place from August 17 to August 21, 2016 at the Mt. Hood Aquatic Center in Gresham, Oregon. 1287 swimmers entered the meet from 196 Clubs. 43 World Records and 72 USMS Records were set during the course of the meet.
Michigan Masters placed 8th in the Regional Club division with 226 points with 7 swimmers who attended the meet. The Men's team placed 5th with 168 points with 5 swimmers attending and the Women's team placed 11th with 58 points with 2 swimmers attending. 6 Michigan LMSC State Records were set by Michigan Masters swimmers during the course of the meet.
Kevin Doak won 4 out of 5 events in the 35-39 age group for another outstanding meet to go along with the 2016 Spring Short Course Nationals where he won 5 out of 6 events entered for a total of 9 USMS National Championships for the year. He set 2 Michigan LMSC State Records in the 50 and 100 meter Back.
Three second place finishes were secured by Christian Vanderkaay in the 50 Breast, 100 Breast, and 200 IM. The 50 Breast and 200 IM were new LMSC State Records. Colby Haan, swimming in his first USMS Nationals placed second in the 50, 100, and 200 Breast events in the 18-24 age group. Tom Phillips placed second in the 50 Free and broke the LMSC State Record for his first one in the 40-44 age group. Denise Brown broke her own 400 IM record dropping almost 3 seconds from her previous record.
Kevin Doak was the Michigan Masters Men's High Point winner with 53 points and Tamara Steil was the Michigan Masters Women's High Point winner with 31 Points. Results, Records, and Placings are included in the Exhibits. Congratulations to all 7 swimmers who attended the meet.
MI Masters Swimmers Results with Splits and Scores