2018 Michigan Masters Banquet with Special Guest – Olympian Janet Evans
October 21, 2018 @ 4:00 pm

-

7:00 pm

$30.00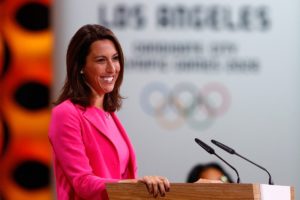 The 8th Annual Michigan Masters Banquet will be held on Sunday, October 21, 2018 at 4PM and feature a very special guest – 3 time Olympian Janet Evans.
The banquet will immediately follow a Masters Swim Clinic that Janet Evans will be giving at Lifetime Fitness in Novi and will once again be held at Genitti's in Northville (about 10 minutes away.)
Janet will be speaking after dinner about swimming, her three Olympic experiences and the upcoming 2028 Olympic games in Los Angeles. There will also be plenty of time for questions from the audience and photos.
Janet Evans is widely considered to the be the greatest female distance swimmer in history.  Despite her small size and unorthodox windmill stroke, she was a natural-born swimmer, completing laps by the age of two. In 1987, when she was 15 years old, Janet burst onto the international swimming scene, breaking world records in the 400m, 800m and the 1500m freestyle.
A year later at the 1988 Olympics in Seoul, Janet won gold medals in all three of her races: the 400 meter freestyle, 800 meter freestyle, and 400 meter Individual Medley, overtaking the powerful East German swimmers in the process. Her 400 freestyle victory was won in a world record time.
In 1992 in Barcelona, Janet defended her gold in the 800 freestyle and added a silver in the 400 freestyle.
Janet broke a total of seven world records in three events (400 meter, 800 meter, and 1500 meter freestyle) during her career. Her 1500 meter world record stood for 20 years, her 800 world record stood for 21 years, and her 400 world record stood for 19 years, making them some of the longest standing records on the swimming books.
In 2010, Janet mounted a comeback in the sport with the goal of competing a the Olympic Trials in 2012 in the 400 meter and 800 meter freestyle. She successfully qualified for the Trials, and, at the age 40, had the honor of trying out for the Olympic Team once again in both events in July of 2012.
The Michigan LMSC is pleased to offer this special evening with a true Olympic legend who will share her insights and stories with everyone at this year's banquet.
Our banquet host, Genitti's, is a 47 year Northville landmark combining great food, banquet rooms, and a dinner theater in its block long downtown Northville establishment.
This year's event will also feature a great meal, along with swimming related door prizes, awards and recognition of those who have excelled in the past year.
Plus, we also be handing out the annual Michigan Masters Loyalty Awards, which honors Michigan LMSC members for their continuous loyalty masters membership. You must be present to win your award and you can win an award once every five years. The prizes are as follows:

  5-9 Michigan Masters Coffee Mug
10-14  Michigan Masters Pin
15-19 – Cash: $2 Per Year
20-24 – Cash: $2 Per Year
25-29 – Cash: $2 Per Year
30-34 – Cash: $2 Per Year
35-39 – Cash: $2 Per Year
If you have any questions at all about this year's banquet, please contact Patrick Weiss at pweiss@ameritech.net.
We look forward to seeing everybody at the 8th Annual Michigan Masters Banquet to be held on Sunday, October 21, 2018 at 4PM.
Tickets for this year's banquet are just $30.