Milford Monster
Madness Meters Meet
October 23, 2022 @ 7:00 am
Short Course Meters Masters Swim Meet
Sunday, October 23, 2022 at Milford High School Natatorium
USMS Sanction #192-S009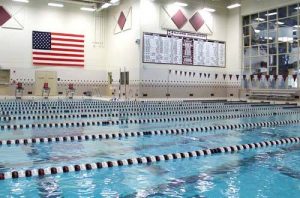 Online Registration Closes Saturday, 10/22/22, at 9:00 PM
Location: Milford High School Natatorium, 2380 South Milford Rd, Highland, MI  48357 Milford High School is 1.5 miles south of M-59, enter on Watkins Blvd.  Pool entrance is located on north end of school by the football field.
Venue: Short Course Meters / 6 Lane Pool. Warm Up & Cool Down Area and Electronic Timing. There is plenty of parking and seating for spectators. Locker rooms are available. Huron Valley is not responsible for lost or stolen items so please bring a lock.
This meet will be swum as Short Course Meters (SCM).  The length of the competition course without a bulkhead is in compliance and on file with USMS in accordance with articles 105.1.7 and 107.2.1. The primary timing system will be automated with sound device at the start and swimmer touching the pad at the finish with the time recorded on a scoreboard. Official times from this automated timing system will be submitted for USMS Records and USMS Top Ten times for all courses. For Short/Long Course Meters the time will be submitted to FINA for Masters FINA Top Ten and Masters FINA World Records.
Entries:  On-Line Registration: $35.  Register Online at: www.michiganmasters.com.
Online registration closes Saturday, 10/22/22, at 9:00 PM.
Mail-In Registration:  $35. Mail-In registration forms must be postmarked by
Wednesday 10/13/21, and Mailed to:  Samantha Snyder, 296 Oakmont, Auburn Hills, MI 48326. Make checks payable to: Milford High School Athletic Department
Deck Entry Registration: $40 Day-of, or Deck entry will close at 9:15am.
Swimmers may enter a maximum of 5 events and 2 Relays. All relays will be deck entered.
Mail photocopy of current USMS card with written entry
FINA rules apply to SCM Meets.  Your age on 12/31/2022 determines your age group.
By registering for this event you have bought a 'ticket'. As with a ticket to any sports or entertainment events there are no refunds or credits of you are unable to attend.
Eligibility: Only current USMS members will be allowed to compete.
Sanctioned by Michigan for USMS
Schedule: Session I Event 1 Check In & Warm Up: 7:00-7:30am
Session I Starts 7:30 am and will consist only of the first 18 entries received for the 1500 Free. We will contact you if you're not in the 1500. If not at max and you are coming early, we will allow deck entries on a first come basis.
Session II Events 2-17 Deck Registration closes at 9:15am
Session II Warm Up: 9:30-10:00
Session II Begins at 10:00am
Meet Director: Samantha Snyder,  [email protected]
Hospitality:     Snacks available during the meet.
All proceeds from the meet supports Huron Valley United High School Swimming & Diving.